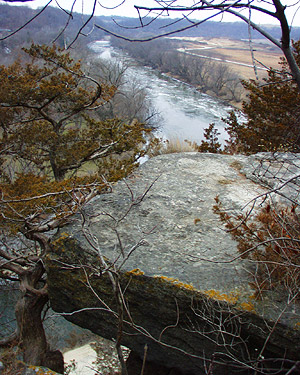 Activities: Self-guided driving/walking tour
Around 1831, the Millville family lived above Dubuque. Their son, Lou, not only found companionship among neighboring Indians, he was particularly friendly with Chief Grey Eagle and his beautiful daughter, White Cloud.
Millville knew the Indians had a lead mine some distance from Dubuque. Against the advice of White Cloud, Lou followed two braves into the wilderness to learn the secret of the mines. Far up the Turkey River, he was discovered and captured by the Indians. At dawn, the following morning, Lou was ordered to leap from the cliff into the water far below. As he stood poised to jump, he instead leaped backward to attack his captors. Before he lost consciousness from tomahawk blows Lou managed to throw his assailants over the cliff. When Millville recovered, he found White Cloud's moccasins beside him. Fearing for his safety, White Cloud had followed Millville in her canoe. She had discovered him lying on the cliff and thinking him dead, removed her moccasins and leaped over the cliff. Millville found the dying White Cloud on the rocks near the water's edge. He later buried her on the cliff from which she had jumped. Legend says the faithful lover made a yearly pilgrimage to the grave of White Cloud located on what is now known as Lover's Leap.
Information for this article from "Old Elkader Facts and Food"